Wouldn't it be great to impress your clients, guests and friends that when they turn up for your special function already there is The Fawlty Towers cast, or Del Boy, Marilyn Monroe, David and Victoria Beckham, or even James Bond or The Queen with the Royal Family?
You can book any one of our hundreds of Celebrity look-a-likes, if they are famous we have a double for you. Have everyone doing a double-take as our fantastic celebrity doubles turn everybody's head and keep them second guessing...is it really who they think it is? We at Omega Promotions can provide you with a huge range of look-a-likes, from film star look-a-likes, TV star look-a-likes, pop star look-a-likes and even Royal and sport star look-a-likes.
Fantastic photo opportunities or maybe your event has a theme and one our look-a-likes could be the icing on the cake.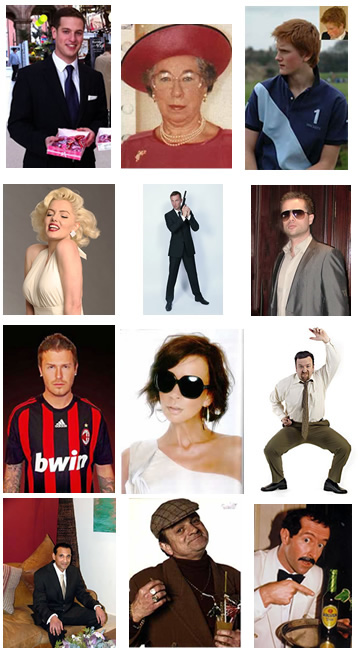 The list is endless but includes.
Alesha Dixon | Ali G / Borat | Angelina Jolie | Basil Fawlty | Brad Pitt | Britney Spears | Bruce Forsyth | Cristiano Ronaldo | Daniel Craig | David Beckham | David Brent | Diana Dors | Jack Nicholson | Justin Bieber | Laurel and Hardy | Marilyn Monroe | Mark Owen | Michelle Obama | Mr Bean | Pierce Brosnan | Prince Harry | Ricky Gervais | Sarah Jessica Parker | Sven Goran Eriksson | Victoria Beckham | The Queen, Prince Charles, Prince William, Winston Churchill, Kate Middleton, Camilla Parker Bowles, Sting, Russell Brand , Del Boy, Basil Fawlty, Manuel, Gary Barlow, Robbie Williams, Barack Obama, Johnny Depp, Freddie Flintoff, Simon Cowell, Cheryl Cole, Odd Job, Jaws, Sean Connery, Tiger Woods, Bruce Willis, Little Britain characters, Austin Powers, Dr, Evil, Ozzy Osbourne, Jack Nicholson, Hugh Grant, Graham Norton, Clint Eastwood, Wayne Rooney, Ab Fab characters, Tom Cruise, Liz Hurley, Harry Potter, George Clooney, Mick Jagger, Jonathon Ross and many many more, please just ask.